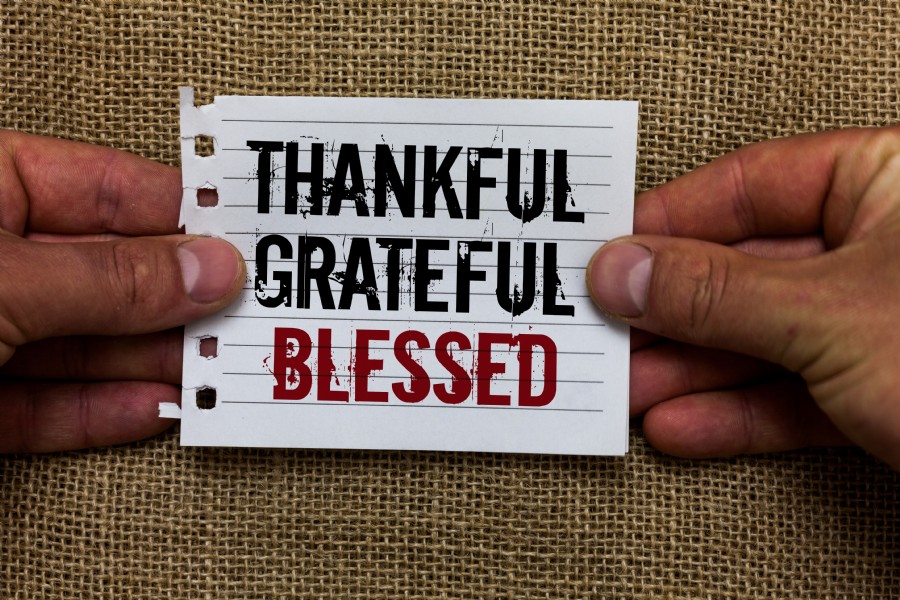 Whatever happens keep thanking God because of Jesus Christ. This is what God wants you to do. - 1 Thessalonians 5:18 (CEV)
As we walk through this challenge there have been times when we've considered what do we have to be thankful for? There may have been significant loss, negative impacts on our body, trauma that has affected our mental and emotional state. Why should we be thankful? The reason that we are thankful first and foremost is because of our Lord and Savior, Jesus Christ. When we consider the love of God that sent Jesus to become sin for us, although He knew no sin, the greatest expression of appreciation that we can give God is thanksgiving from a grateful heart.
He made Christ who knew no sin to [judicially] be sin on our behalf, so that in Him we would become the righteousness of God [that is, we would be made acceptable to Him and placed in a right relationship with Him by His gracious lovingkindness]. – 2 Corinthians 5:21 (AMP)
Being made right with God through Jesus Christ places us in relationship with God as our Father regardless to what we have experienced or what we have done. Based on our belief, we are born again, with God as our spiritual Father. The door is now open to us to commune and fellowship with God, acknowledging Him in everything for the direction that we need in all things.
The next part is to be thankful for what we do have. Most of us are familiar with Jesus feeding the multitude with the fish and the loaves which tangibly wasn't enough. However, Jesus gave thanks for the few fish and the seven loaves, then distributed it to the people and there was some left over. We can easily attribute the miracle to this being Jesus, however, look at Jesus honoring God the Father, by giving gratitude for what He had; how much more should we give gratitude for what we have. We may not be where we'd thought in this season of our lives, however, gratitude allows us to express to God that we are appreciative of His provisions.
He told the crowd to sit down on the ground. When he had taken the seven loaves and given thanks, he broke them and gave them to his disciples to distribute to the people, and they did so. They had a few small fish as well; he gave thanks for them also and told the disciples to distribute them. The people ate and were satisfied. Afterward the disciples picked up seven basketfuls of broken pieces that were left over. About four thousand were present. – Mark 8:6-9(a) – (NIV)
God wants to have a relationship with us; this is why He allowed Jesus to be our sacrifice. We respond to God's love by accepting Him as our Father, believing in Christ Jesus, with a thankful and grateful heart.
Here are a few reasons why we're thankful, and there are many more:
We are thankful that God chose to love and father us no matter what

We are thankful that God chose to give us faith to believe in Jesus and to live a life of trusting and depending on Him (a life of faith)

We are thankful for His Holy Spirit who leads, counsels, empowers, and helps us in all that we do
Let us choose to view God as our single point of focus which allows us to be spiritually perceptive of Him. When He's our single focus, we'll see many reasons for thanksgiving from a genuine place in our hearts.
"The eye is the lamp of the body; so if your eye is clear [spiritually perceptive], your whole body will be full of light [benefiting from God's precepts] – Matthew 6:22 (AMP)
Prayer
Father, I thank You for sending Your Son, Jesus, to be the offering for my sins. Thank you for choosing to love me and never leave me. Thank You for placing me in right standing with You through the righteousness of Jesus Christ. Thank for being with me through it all. In response to Your love, I give You my trust and dependency. I admit that I cannot live this life on my own and I need You. Thank You for allowing me to approach You with the faith of a child, looking to You and depending on You as my father. All praises, honor, and glory be to You God. In Jesus' name; Amen.