Prayer Page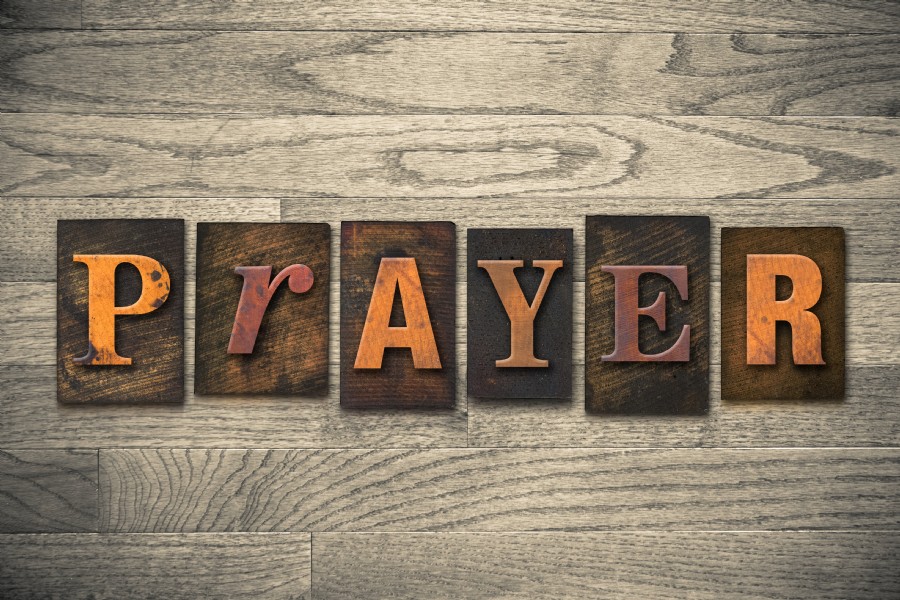 Welcome to our Prayer Page 
On this site, we have endeavored to help build you up in the power of prayer so that you will be able to stay strong in the face of adversity.  We encourage you to use the prayers here as starters. Personalize them and say them often, preferably every day. Add them to your toolbox to help you grow and become stronger in the Lord and His Mighty Power.
1.  What is prayer?
It is communication between you and God. Although you are in a natural state of being; it is done spiritually because God is spirit.
2.  How often do I pray?
As often as possible but at least once a day. The Bible say in that men should always pray and never give up.
3.  How do I pray? 
There are many different reasons, types and ways to pray but the most important point to prayer is to be open, honest and receptive to God. Using the Word of God from the Bible is a very good starting point.  The Psalms are prayers and there are various prayers throughout the Bible to use as models.  We have included some here. 
Do not hesitate to reach out to us.  We want to stand with you during times of adversity.  So, send us your prayer requests.  Send us your testimonies as well; we also want to celebrate your victories in Christ Jesus.
Prayer of Inspiration
Go to the bottom of this page to submit your prayer requests!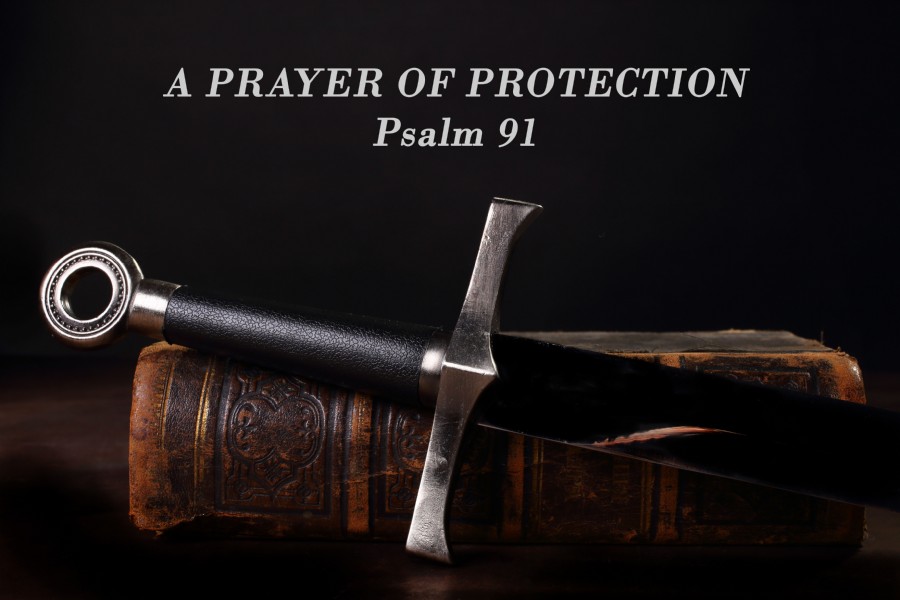 Psalm 91 – A Psalm of Protection
He who dwells in the shelter of the Most High will rest in the shadow of the Almighty. [1] I will say [2] of the LORD, "He is my refuge and my fortress, my God, in whom I trust." Surely he will save you from the fowler's snare and from the deadly pestilence. He will cover you with his feathers, and under his wings, you will find refuge; his faithfulness will be your shield and rampart. You will not fear the terror of night, nor the arrow that flies by day, nor the pestilence that stalks in the darkness, nor the plague that destroys at midday. A thousand may fall at your side, ten thousand at your right hand, but it will not come near you. You will only observe with your eyes and see the punishment of the wicked. If you make the Most High your dwelling-- even the LORD, who is my refuge then no harm will befall you, no disaster will come near your tent. For he will command his angels concerning you to guard you in all your ways; They will lift you up in their hands, so that you will not strike your foot against a stone. You will tread upon the lion and the cobra; you will trample the great lion and the serpent. "Because he loves me," says the LORD, "I will rescue him; I will protect him, for he acknowledges my name. He will call upon me, and I will answer him; I will be with him in trouble, I will deliver him and honor him. With long life will I satisfy him and show him my salvation."
A "Psalms 10" Prayer
Dear Heavenly Father,
We plead the Blood of Jesus and we ask for Your Divine Protection over our lives.
We ask you to shake evil and wickedness out of their high places and hidden places in the heavenly and the earthly realms.
Let the evil that men do recoil back on them because You, Father will not be mocked. "Whatever a man sows that he shall reap.
Let the evil and wicked person be ensnared by their own lies.
Call the evil and wicked person to account in this age for the evil and wicked deeds they perpetrate against your people and innocent people on this earth.
Let our eyes see the punishment of the wicked.
Break the arm of the evil and wicked person and destroy their devices and their evil works out of our lives.
Defend those who are oppressed by this evil and wicked system of persecution and targeting. Let these evil and wicked persons know that they are mortal and You are the giver of life.
Let these evil and wicked persons know that their life is in Your Hand.
We ask Heavenly Father that You don't allow their wickedness to strike terror in us or on this earth. Tear down their wicked power and authority in Jesus Name. Cause them to surrender to the Power and Authority of Jesus Christ.
Silence all of our adversaries, in Jesus Name.
We bind up spirits of stagnation and word curses that have been sent to hold us up or back.
Let your Heavenly Forces of Angelic Host come and war against spirits or curses of bad luck or misfortune. We refuse to accept what the devil has planned for our lives or our families/loved ones lives.
We will not accept misfortune, we reverse every curse by the Power and in the Name of Jesus who destroyed every curse waged against a child of God.
We ask that You humble our enemies in the name of Jesus. Amen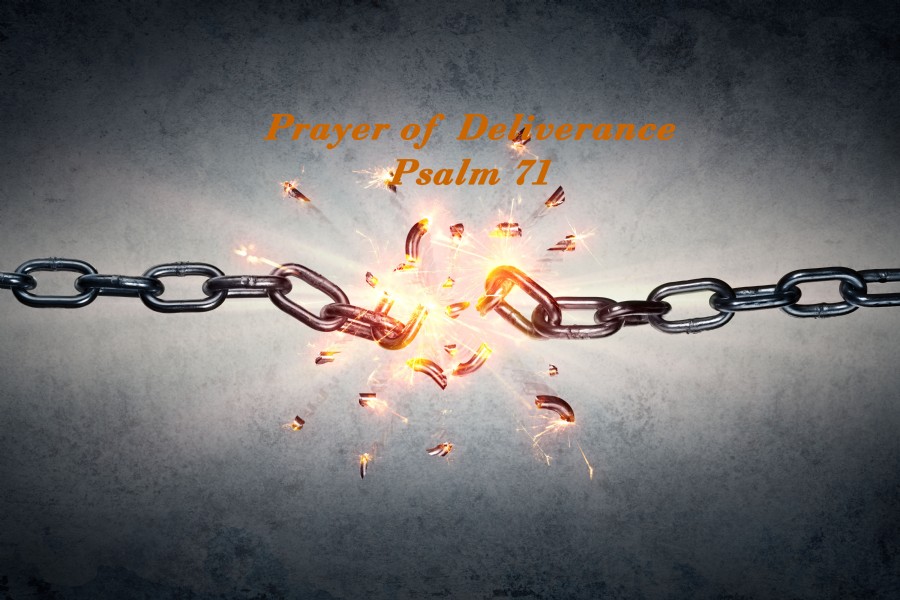 Psalm 71-A Psalm of Deliverance
1 In you, Lord, I have taken refuge; let me never be put to shame.
2 In your righteousness, rescue me and deliver me;
3 Be my rock of refuge, to which I can always go; give the command to save me, for you are my rock and my fortress.
4 Deliver me, my God, from the hand of the wicked, from the grasp of those who are evil and cruel.
5 For you have been my hope, Sovereign Lord,
6 From birth I have relied on you; you brought me forth from my mother's womb.
    I will ever praise you.
7 I have become a sign to many; you are my strong refuge.
8 My mouth is filled with your praise, declaring your splendor all day long.
9 Do not cast me away when I am old; do not forsake me when my strength is gone.
10 For my enemies speak against me; those who wait to kill me conspire together.
11 They say, "God has forsaken him; pursue him and seize him, for no one will rescue him."
12 Do not be far from me, my God; come quickly, God, to help me.
13 May my accusers perish in shame; may those who want to harm me be covered with scorn and disgrace.
14 As for me, I will always have hope; I will praise you more and more.
15 My mouth will tell of your righteous deeds, of your saving acts all day long—
    though I know not how to relate them all.
16 I will come and proclaim your mighty acts, Sovereign Lord; I will proclaim your righteous deeds, yours alone.
17 Since my youth, God, you have taught me, and to this day I declare your marvelous deeds.
18 Even when I am old and gray, do not forsake me, my God, till I declare your power to the next generation, your mighty acts to all who are to come.
19 Your righteousness, God, reaches to the heavens, you who have done great things. Who is like you, God?
20 Though you have made me see troubles,
    many and bitter, you will restore my life again;
from the depths of the earth you will again bring me up.
21 You will increase my honor and comfort me once more.
22 I will praise you with the harp for your faithfulness, my God; I will sing praise to you with the lyre, Holy One of Israel.
23 My lips will shout for joy when I sing praise to you— I whom you have delivered.
24 My tongue will tell of your righteous acts all day long, for those who wanted to harm me have been put to shame and confusion.

Psalm 25[a] – A Prayer of Guidance and Protection
1 In you, Lord my God,
    I put my trust.
2 I trust in you; do not let me be put to shame, nor let my enemies triumph over me.
3 No one who hopes in you will ever be put to shame, but shame will come on those who are treacherous without cause.
4 Show me your ways, Lord, teach me your paths.
5 Guide me in your truth and teach me, for you are God my Savior, and my hope is in you all day long.
6 Remember, Lord, your great mercy and love, for they are from of old.
7 Do not remember the sins of my youth and my rebellious ways; according to your love remember me, for you, Lord, are good.
8 Good and upright is the Lord; therefore he instructs sinners in his ways.
9 He guides the humble in what is right and teaches them his way.
10 All the ways of the Lord are loving and faithful toward those who keep the demands of his covenant.
11 For the sake of your name, Lord, forgive my iniquity, though it is great.
12 Who, then, are those who fear the Lord? He will instruct them in the ways they should choose.[b]
13 They will spend their days in prosperity,
    and their descendants will inherit the land.
14 The Lord confides in those who fear him;
    he makes his covenant known to them.
15 My eyes are ever on the Lord,
    for only he will release my feet from the snare.
16 Turn to me and be gracious to me,
    for I am lonely and afflicted.
17 Relieve the troubles of my heart
    and free me from my anguish.
18 Look on my affliction and my distress
    and take away all my sins.
19 See how numerous are my enemies
    and how fiercely they hate me!
20 Guard my life and rescue me;
    do not let me be put to shame,
    for I take refuge in you.
21 May integrity and uprightness protect me,
    because my hope, Lord,[c] is in you.
22 Deliver Israel, O God,
    from all their troubles!
Footnotes
Psalm 25:1

 This psalm is an acrostic poem, the verses of which begin with the successive letters of the Hebrew alphabet.

Psalm 25:12

 Or 

ways he chooses

Psalm 25:21

 Septuagint; Hebrew does not have 

Lord

.
Bible Scripture Prayers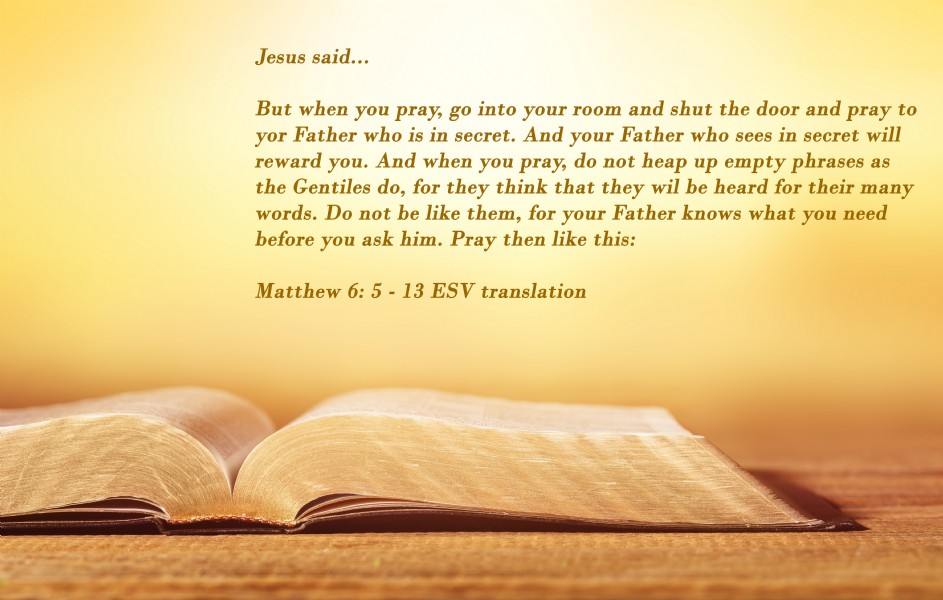 The Lord's Prayer - Matthew 6: 9-13
Our Father in heaven, Hallowed be your name.
Your kingdom come, your will be done, on earth as it is in heaven.
Give us this day our daily bread, and forgive us our debts, as we also have forgiven our debtors.
And lead us not into temptation, but deliver us from evil.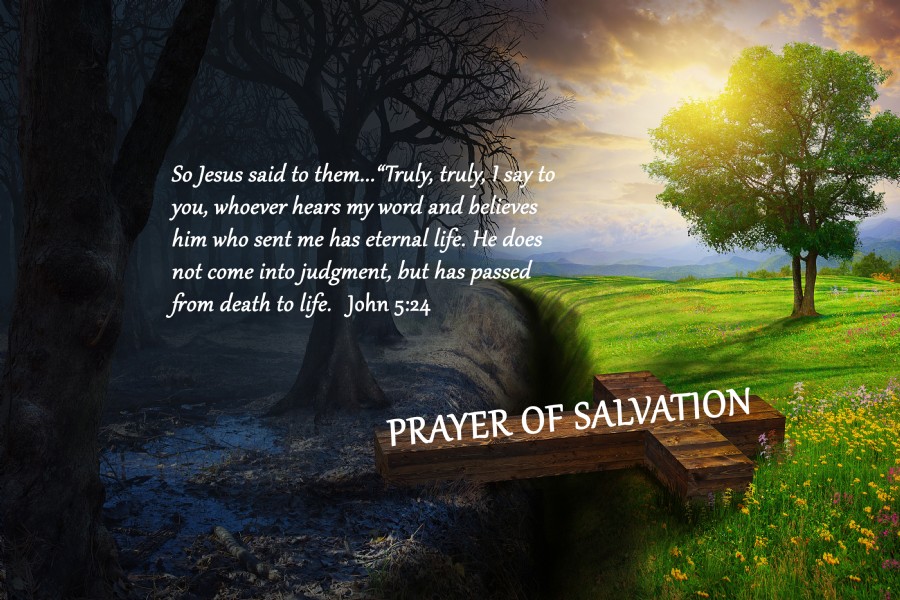 Invitation to Discipleship
God loves us and sent Jesus to be our sacrifice, taking the punishment for our guilt and sin on the Cross.  All He asks of us is to believe on His Son, Jesus Christ, accept His righteousness and receive Him in our hearts as Lord & Savior. 
We cannot save ourselves from Sin, Jesus did that for us on the Cross.  As we believe on what Christ has done, He gives us His Holy Spirit as our Helper, Teacher, and Comforter; we are never alone.
If you'd like to become a member of the family of God please pray this with me:
Father, I thank you for sending Your Son to pay the penalty for my sin, shame, and guilt.  I acknowledge that I cannot save myself by my own works.  I gladly accept and welcome Jesus into my heart as my Lord & Savior.  Thank you Lord for saving me, in Jesus' name, Amen
If you want to grow as a new Christian, begin reading the Bible to get to know who you are in Christ and to know your Father.  A good starting point is the Book of John.   John 3:16 reads "For God so loved the world that He gave His only begotten Son that whosoever believes on Him will not perish, but have everlasting life."  Know that whosoever includes you.
Unite with Refuge from the Storm Church or a Bible-based church to continue to grow in your relationship with God.
Welcome to the Kingdom of Christ!